In the aftermath of an atrocity, Peter, a paramilitary, is confounded by a detective's questioning. An answer might offer a kind of redemption to both men but threatens to condemn Peter to a long prison sentence. Does he know the answer?
A short film by Billy McCannon.
In the aftermath of an apocalypse, a mans tragic loss leads him to an unequivocal decision.
A short film by Dan Sachar.
(via Phil Garrett)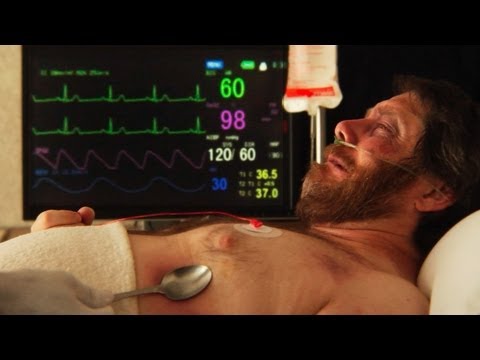 The Horribly Slow Murderer with the Extremely Inefficient Weapon by Richard Gale.
The short film To Build a Home (directed by Up the Resolution) is made from the music videos for two songs of The Cinematic Orchestra: To Build a Home and Breathe.
A beautiful song and a beautiful video. I'll leave to the music and the images because there is really nothing I can add.
Watch it. (Flash Video)
…the title sequence to Ruben Fleischer's Zombieland does not back down. Flashes of jarring death slathered with slow speed splatter document a kinetic finality that does not force its humor. We see every black bauble of biohazardous blood upsurge and dot the landscape of a crippled Earth.
U can has it at Art of the Title along with an interview with Ben Conrad of Logan.
Weston Currie's Congress: A Thousand Years of Death is the comprehensive history of a haunted American town. The film begins in prehistory, ends in the distant future, and finds time in the middle to tell the story of Congress' founding family, the Turners. Structurally, it is episodic and elliptical; each segment is a fantasia of death and dreams…
Watch a sequence from the film.
Two flowers (voiced by Whoopi Goldberg and Christy Scott Cashman) grow on the edge of a clearing next to one another. One is old and jaded by a mysterious history – the other one still young, vivid and curious. Destiny has brought these two together and it seems as if they would exist without possibility for change, until one day a visitor to the clearing brings something unexpected to their lives.
A short film written and directed by Heiko van der Scherm.
Watch Descendants.
via Ehrensenf
An old man confronts his fears, traveling across a personal landscape to realize and accept his path.
Music video directed by Overture for Kira Kira.
Watch Bless.
I loved Goodbye Solo and Chopshop which Roger Ebert said was one of the top 10 films of the past decade. Here, Director Ramin Bahrani uses a plastic bag to tell an intricate story on dying and the environment. Legendary director Werner Herzog does the voice-over.
The cinematic trailer for the game Brink is the work of Blur Studio. The game, developed by Splash Damage will be published by Bethesda.
After stealing an old door, a man reflects on the desperate circumstances that led him to do so.
Oscar nominated short film by Juanita Wilson.
Watch The Door.
(via Directors Notes)
Last scene from The Deer Hunter.
Watch it. (Flash Video)
So incredibly touching. I am in tears.