A story for pioneers. Just lovely.
The time shifts are lovely. I think cinema should officially replace the cigarette with the lollipop.
Very very cute. Much like Creature Comforts.
Based on the backstory of one of the most beloved children's novels of all time comes the extraordinary love story between a simple woodsman and a beautiful maiden. Not having many possessions but wanting to marry his maiden, the woodsman sets his heart to build a large and beautiful cabin.
The new short film from Whitestone Motion Pictures.
Watch Heartless.
Two flowers (voiced by Whoopi Goldberg and Christy Scott Cashman) grow on the edge of a clearing next to one another. One is old and jaded by a mysterious history – the other one still young, vivid and curious. Destiny has brought these two together and it seems as if they would exist without possibility for change, until one day a visitor to the clearing brings something unexpected to their lives.
A short film written and directed by Heiko van der Scherm.
Watch Descendants.
via Ehrensenf
An old man confronts his fears, traveling across a personal landscape to realize and accept his path.
Music video directed by Overture for Kira Kira.
Watch Bless.
I love the Missed Connections blog. This new video captures it quite beautifully. This new web series is very promising.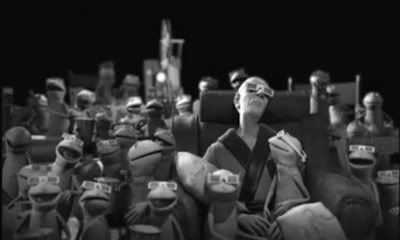 Kermit the frog discovers the dead body of Jim Henson. A beautiful tribute to the creator of the muppets.
The third release of the PSST "exquisite corpse" project is a music video for the band Over the Rhine. As usual, "each team had 3 weeks to produce their part and then passed it off to the next director, following the PSST! process."
Watch it here (temporary link) or here.
Brilliantly done! The film is non-linear which one associates with cerebral thinking which compliments the main character beautifully. Style meets substance.
"Working together. We are all in this together." Modern society frowns on the idea. Sad.
Absolutely hilarious and addresses something that bothers me quite often. If everything is art, what isn't?
Next time, don't bother. Rough on the edges but it works in sad, funny way.
Once upon a time, somewhere in space, a dark lord falls in love with the Queen of a huge ringworld. He encircles her homeworld with his gigantic spacefleet and finally starts a direful attack.
A short movie by Valentin Schwind. Music by Ivelina Nedyalkova.