I've stopped drinking out of plastic bottles. This is a good reminder to me on why that is a good choice.
There is a videoblog of Chris' journey to midway.
Sad and hilarious when the kids snaps about the oil sticking to her feet.
(via Duncan)
A woman (Alison Bruce) and a man (Alistair Browning) are in love. They trust each other. And everything else flows from that. But what happens if that trust is broken? What can a relationship survive? And when we are left alone, how do we live with our regrets?
Watch Us. (Dir. James Blick)
Watch it. (Dir. Alessio Fava)
A boy (Luke Hayward) and his father (Liam Thomas) live a harsh existence against a desolate backdrop. Whilst the father is stranded, the boy's physique allows him to pass through a small tunnel leading to a place very different from their own.
Watch Tide by Luke White. [IMDB Page]
Two flowers (voiced by Whoopi Goldberg and Christy Scott Cashman) grow on the edge of a clearing next to one another. One is old and jaded by a mysterious history – the other one still young, vivid and curious. Destiny has brought these two together and it seems as if they would exist without possibility for change, until one day a visitor to the clearing brings something unexpected to their lives.
A short film written and directed by Heiko van der Scherm.
Watch Descendants.
via Ehrensenf
After stealing an old door, a man reflects on the desperate circumstances that led him to do so.
Oscar nominated short film by Juanita Wilson.
Watch The Door.
(via Directors Notes)
Cotton Stones from Jonathan Entwistle.
I just love these talented young actors. Wow. Strong in every element but the performances carry it.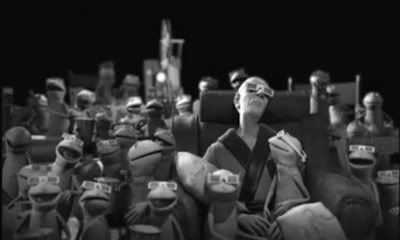 Kermit the frog discovers the dead body of Jim Henson. A beautiful tribute to the creator of the muppets.
Two lovers meet one another on a bridge. All is well until tragedy rises from the water.
A short movie by Andrew Gibbs.
Watch it. (Flash Video)
Hot, hot and yuck.
Stephen invites kids on the show for an explanation of what SCHIP is and why they can't have it.
From The Colbert Report with Stephen Colbert.
Watch it. (Flash Video)
Apparently you can show your bare ass on Youtube only in order to set your farts on fire. Any other reason, including a PSA to raise AIDS awareness, brings to deletion.
OK, there's something more going on in the spot but I mean, c'mon…
The director is Dimitri Daniloff at Marcassin. Creative agency: Leo Burnett.
Watch it. (MPEG-4)
Watch it. (Flash Video)
thanks Jérôme!
Talking about Siggraph, here's something from 2006. A beautiful short movie by Uspidownit founder Lucy Blackwell.
Two insects are born into a luscious alive world of food.  As they explore their home, they realize they are living inside a tiny bubble.  One of the insects decides to escape…
Watch it. (Quicktime or Winmedia)
A dark comedy about a brilliant carpenter who cannot help himself from improving on his wife. The film is a mix of Absent Minded Professor and a 70's Horror flick. Well directed by Peter Foott (the name is kinda odd once you've seen the film). Winner for best comedy at LA International Short Film Festival.