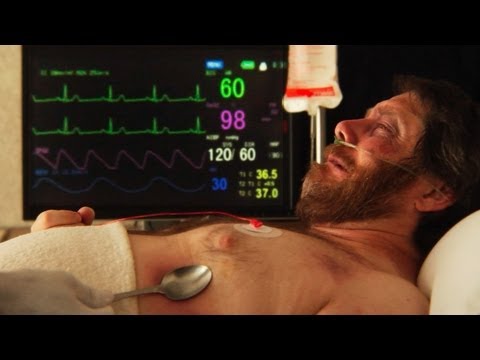 The Horribly Slow Murderer with the Extremely Inefficient Weapon by Richard Gale.
A series of five funny idents for television station Melody Aflam tells the truth behind Braveheart, Dances with Wolves, Titanic, Rocky and Seven.
Created at Leo Burnett. Directed by Mohamed Hamdalla at Lighthouse Film.
The rise and fall of the most influential music band of the 80s. Kind of.
Directed by So-Me and Machine Molle.
Watch I Think I Like U 2.
Some (two at the moment) short and delicious films from Tokyo Plastic. I can has more plz?
Two powerful leaders fighting for territory start a world war. Two pilots from both sides are entangled in a dogfight in the air. By chance, the two pilots are stranded upon a small island in the middle of the ocean.
An animated film by Jokelate.
Watch it. (Flash Video)
This video is the fifth in a series of spoofs of telenovelas, presented on the Voto Latino website. Rosario Dawson describes it as their answer to Sarah Silverman's The Great Schlep.
Starring and directed by Wilmer Valderrama, Rosario Dawson, Perez Hilton, Jane Fonda, Tony Plana, Mayte Garcia, Nick Zano, with a cameo by Vida Guerra, Malverde, Chana, Alysha del Valle and Upground.
Music produced by Marthin Chan. Lyrics by Rosario Dawson.
Watch it. (Flash Video)
via GreenCine and Wilshire & Washington
Half Russian History allegory as told through an old zombie movie made in the Soviet Union, and half animated Soviet Propaganda posters.
A music video directed by Tom Stern for the Russian band AnJ.
Watch it as: MPEG-4 – Flash Video
Title says it all.
Watch it. (Flash Video)
It has been a while since we heard from the Four Eyed Monsters (filmmakers Arin Crumley & Susan Buice). We have interviewed them in the past. I have fond affection and respect for them and their work. Many times, since all hoopla died down, I found myself defending them, their work, their way of doing things.
The biggest objection I hear is that they teeter on the obnoxious. A feeling akin to an older person feels to a younger person describing their lives as a grand-new-once-in-a-lifetime event when it is actually commonplace and repetitive. If you are in your late 20′s or later, these podcasts and the drama it revolves around remind you how silly, shallow life is in your early 20′s. But that could be intriguing in its own right.
These new podcasts will not change any of those perceptions. We are in our middle 20′s. The relationship is past the film and focused on itself. The big twist is that Susan has decided to be a stripper. I am a little confused on the reasons. Money, sexual exploration and a bigger-middle-finger-fuck-you to Arin are thrown in the mix. One reason, not touched upon, but in the mind of the viewer, would be that Susan, like Arin, are exhibitionists. It does boggle the mind how much recording taking place. Newest fetish: videoblogging!?
Like all of their earlier podcasts, they are honest about what is going on but not truthful. What I mean is that they are stating and describing what is going on. But nothing else. They have added what must be the most annoying cutaways to enhance these statements. But they stop there. What could be incredible conversations are cut short by a montage of beat-over-the-head physical illustrations of what has already been said.
Still following, still interested. As I have plead to the creators of Lost in the past, be easy with the fill.
Episodes nine, ten, eleven, twelve.
Photograph from Susan's flickr account.
"Your mama is so fat…" jokes in short film format.
What if the Internet had existed a hundred years ago?
Step in the WayBack Machine and see all your Internet favs (Dax Flame, Star Wars Kid, the Numa Numa Guy… even the Swift Boat Vets!) steampunk'd for your enjoyment!
Watch it. (Flash Video)
The voice cast of Spongebob Squarepants (Tom Kenny, Bill Fagerbakke, Carolyn Lawrence, Rodger Bumpass) dub some of the greatest films ever made.
From the Asifa-Hollywood Annie Awards on February 8th, 2008.
Featured: Casablanca, Singin' in the Rain, The Godfather.
Watch it. (Flash Video)
Watch as traditional comestibles slug it out for world domination in this chronologically re-enacted smörgåsbord of aggression.
Short movie by Stefan Nadelman.
Watch it in: hi-res (MPEG-4) or low-res (Flash Video)
This is my sleigh. There are many like it but this one is mine.
Santa Academy is a series of spots produced for Sky TV Italia where a bunch of Santa Claus is sent to a special boot camp where they are trained and selected.
Directed by Harald Zwart.
Watch 'em. (MPEG-4)
Pape Santa, pape Santa aleppe!
"Evil Christmas Carols meets a Santa visit meets Backwards… the result? Messed up."
Watch it. (Flash Video)