Directed by We Were Monkeys.
Can't stop watching this film by Arev Manoukian. Looks even more gorgeous in Full HD on my TV.
Watch Nuit Blanche.
Fantastic stuff from Goodiebag.
Fantastic art decoration and cinematography. (via Nozap)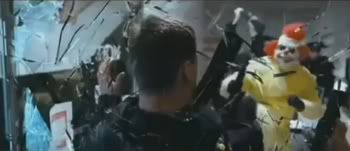 Incredible commercial/short film for Philips new LCD TV.
Filled with some incredibly unique and original imagery. Lovely editing. For whatever reason, made me think of Claire Denis' Beau Travail.
Beautifully realized student film on cloning.
Watch it (Thanks Karsten)
I have a sudden interest in the movie after watching this opening.
Starts simply, then builds and builds to its powerful climatic image.
A nice music video directed by Ryan Jeffery.
Watch it. (Flash Video)
An experimental walk through the modern Peace Movement in the United States.
Watch it. (Flash Video)
via Greencine Daily
One of favorite podcasters is Philip Bloom's. Stunning photography, semi-private portraits. He threads the line somewhere between art/documentary/music video/technical exercise.
Watch it (more tomorrow)
That Go is Noel Paul and Stefan Moore, two fresh graduates of the DXArts, the Center for Digital Arts at the University of Washington in Seattle.
Their first music videos are two nice treats.
Watch Thunderheist – Jerk it. (MPEG-4)
Watch Sophisticated Side Ponytail. (Flash Video)
From Japan comes the case of the woman who has set out to beat a record on time without blinking. But there's one factor she hasn't prepared for.
Viral developed for Morinaga and Co by Dentsu Inc, Tokyo.
Watch it. (Flash Video)
via Duncan's TV