Forgotten Places from ?Zac Boyet?.
A textbook for future horror film set designers.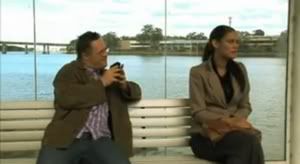 Be My Brother proves that one doesn't need a lot of money to produce an outstanding short. Winner of Tropfest 2009. Watch all the Tropfest films here.

If you ever wanted to learn something about New Zealand, watch this short. Nominated for an Academy Award.
Pure Detroit from Ivan George.
Gorgeous cinematography that hints at social change. Somewhere between heaven, hell & quiet meditation.
Stories about New Yorkers from the New York Times.
A perfect little universe onto to itself.
Philip Glass, whose music takes the biggest chunk my listening, has a wonderful answer.

John Turturro, who should be in a lot more stuff, shines in Curtis' portrait.
So bloody cute. The ending is awesome.
Watch it – check out Sam Bassett's incredible portraits.
You can't help but admire him.
One of favorite podcasters is Philip Bloom's. Stunning photography, semi-private portraits. He threads the line somewhere between art/documentary/music video/technical exercise.
Watch it (more tomorrow)
Seemingly simple but it is quite cohesive. Antville commenter:
…beautiful framing (the symmetry and that every shot has a deliberate 'horizon' across the middle of the screen). lovely grade.
This film is constantly voted the best documentary of all time. It is available in full at Hulu in 420p HD. Cannot get better than that online.
The film remains relevant just like it did when it first came out. Two young basketball players struggle to fulfill a common dream which is to make to the NBA. The two kids have contrasting styles and personalities, each story could have made a great documentary in of itself. But together, the stories highlight the hi's and lo's of each story even better. Once in a lifetime kind of movie.
A photo slideshow by Porter Gifford about little league baseball. Lovely.
Watch it (via Shoot the Blog)