Heartbreaking! Beautiful in showing the passage of time.
– via Dek on Facebook
To mark the bicentennial of the birth of Edgar Allan Poe: January 19th, 2009; this adaptation of Edgar Allan Poe's dark and twisted tale of vengeance… Produced and directed by Mario Cavalli.
Requiescat in pace.
Watch it. (Flash Video)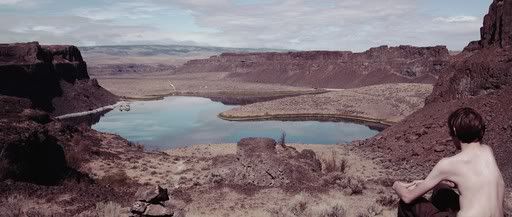 Set at the turn of the century and shot in the epic landscapes of Eastern Washington, the video invokes the hard times of the pioneer past.
The music video has been directed by Matt Daniels and produced by Jaime Keeling at Thinklab.
Watch it as: Flash Video (HD) or MPEG-4 (SD)
BONUS: Additional materials include a photo gallery, a behind the scenes video and an interview.
An adaptation of the origin story of the Tin Man from the Wizard of Oz series, in which the Tin Man is transformed from a human lumberjack to a metal man without a heart. Ray Tintori transported the story's basic premise to a surreal, rural 1940s South, replacing Oz magic with evangelical mysticism; pastors, congregations, and the Rapture replace flying monkeys and witches melting upon contact with water.
Watch it. (Quicktime)
Previous Tintori: Time to Pretend.
What if the Internet had existed a hundred years ago?
Step in the WayBack Machine and see all your Internet favs (Dax Flame, Star Wars Kid, the Numa Numa Guy… even the Swift Boat Vets!) steampunk'd for your enjoyment!
Watch it. (Flash Video)
Bow Street Runner is a historically accurate detective game where you have to investigate the locations in order to find clues and evidence.
The game is set in Covent Garden, London, in the 1750s, when crime and vice had hit unprecedented levels.
Play! (Flash)
via Giavasan
Wow! Director Paul Thomas Anderson flexes some serious filmmaking muscle in this film. This is the Raging Bull of our times, less optimistic (imagine that), less character arc but they do share the same theme: a strong character who cannot escape from himself. In Raging Bull, the redemption or the self awareness comes, in There Will Be Blood, there is not even a hint of such notions.
The obvious checklist: great acting: check; best acting performance by Daniel Day Lewis: check; incredible detail to costumes and times: check; great supporting cast: check; great directing: check; great cinematography: check; fantastic editing: check; powerful story: check.
So all the great reviews you have read about this movie are true.
Here are some of my favorite moments from the film that you will not hear about:
– Daniel Plainview comes to a small farm to check out a family who are sitting on a valuable oil reserve and don't know it. He shows up with his son pretending to be shooting quail. The family patriarch, Abel Sunday (played by David Willis) comes out to greet him. The scene is slow and awkward but real. Anderson and the actors weren't simply recreating an awkward moment, they are recreating a moment from the early 1900's (I can only guess, of course). David Willis is simply incredible, he manages to play a character without a brain, a simple minded man. Of all the great acting in the film, his performance manages to stand out.
– Another great piece of acting from David Willis is the close-up shot of him eating, right after Daniel Plainview has beaten up his son. At first, he seems to have taken a stand against Daniel but the following close-up of his son (played by a wonderful Paul Dano) indicates that he is actually standing up to his son. Willis manages to show his simple minded choice of ignoring the problem but all the while knowing what is at stake. Fantastic.
–  When the baby strokes Daniel Plainview's face on the train. Such an easy moment to indicate that he is going to father the child. Simple, no fancy shots of paper signing or whatever.
– The bowling alley in Plainview's house is one of the best set pieces I have ever seen. Seriously, how cool is that. And Daniel chasing Paul around the back, it is playful. You forget how powerful those bowling pins can be. Which is wonderfully relevant to what happens next.
– The final line "I am finished" can be interpreted in so many different ways. From what is just happened to what will happen in the future to the actual movie.
– When Daniel talks about the peachtree dance hall and his brother can't remember. My reaction to the information mimicked Daniel Day Lewis'.
One of the greatest movies of all time.
The book by Ian McEwan is one of my favorite books of all time. Surprisingly, the movie lives up to the book. I expected the film to be decent, not great, as I haven't heard much of a buzz for this film. However, after seeing it, I'd be shocked if this film doesn't get a Best Picture Oscar nomination.
One of the fears I had about the movie was it would abandon the beautiful structure that McEwan devised to tell the story. Thankfully Christopher Hampton, who wrote the script, not only keeps the structure but also manages to keep some of McEwan's poetics. The scene where Briony sees her sister and Robbie near the water fountain is exactly how I had pictured it from all of the various perspectives.
A lot of credit should also go to Director Joe Wright. This easily could have been a film that we as an audience could watch from a distance. Instead, almost everything is seen through the eyes of a character. Everything is laced with a character's subjectivity. To switch perspectives, there is no fade to black or any other visual device. It is a stream of consciousness that switches back and forth. So well done!
The biggest difference, in terms of emotions, is the beginning of the second half of the book/movie. The book's second half numbs you to the pain from the 1st half. One of the greatest scenes in any book I've ever read. The movie sadly disappoints here, why wasn't there more walking? more brown? more carnage?
The acting ensemble is solid. I am not entirely convinced of Keira Knightley as Cecilia, however, James McAvoy as Robbie is picture perfect. To many, this might seem like another stuffy costume drama. This is as modern as any film you will find. From the story to its character to the film's style, there is a lot of risk taking. Go see it, this is one of the great tragedies of our time.
After all these years, the film still remains daring and avant-garde as ever. When I saw this in film school, so much of my attention was spent on the craft but now my eyes are glued to the subtlety of the directing and acting.
Watch it (1 hours and 27 mins)
One of the best books I ever read. I wonder if the movie can live up to it.
Brilliant concept for a music video, especially the end. The dynamic between music and video are superseded by the idea. You could really go nuts with what it really means, especially if you got a filthy mind like I do.
Watch it – QT version – via antville
Anderson is one of best working directors around. He has yet to make a bad film and it seems that streak should continue. However, this looks like another oil film, it seems devoid of risk which is unusual for an Anderson film.
The video features dancers from the Mickey Mouse Club. The kids look like they are so full of themselves. Incomplete dance moves coupled with confident smiles mixed in with horrendous haircuts creates a plate of unintentional slapstick. I am certain, however, there is nobody that lived in that era and was able to escape the insanity.
Also:
– The church of the future
This has got to be the sexiest pony story ever.
Watch it – via Shortsville