Be a little patient, there is a reason for such repetition.
One of the great American movies available in full for US viewers.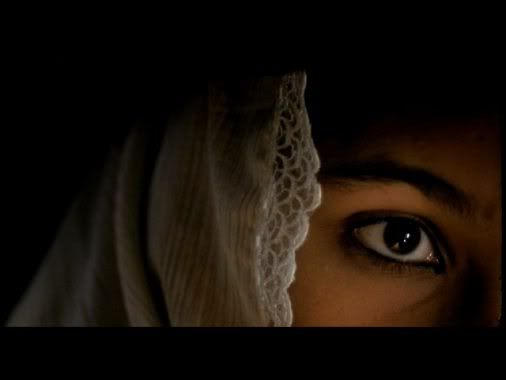 An Iraqi family's meal is interrupted by the sounds of incoming missiles. They share a surprisingly intimate moment as they wait uncertainly under the dining room table.
Written and Directed by Chase Palmer. Director of photographt Andrij Parekh. Edit and Sound Design Miky Wolf.
Watch it. (Flash Video)
An experimental walk through the modern Peace Movement in the United States.
Watch it. (Flash Video)
via Greencine Daily
It is now officially a Palin day on Ticklebooth.
After hearing Matt Damon's brilliant comparison of a Sarah Palin presidency to a bad Disney movie, I called up Sam and said "Let's make a trailer for what that movie would look like." Within hours, Dan and Amir were writing it, Ben and the CHTV crew were casting and producing it, and two weeks later, here it is.
Perfect. Thanks Damon.
The internet sensation that I cannot not post. Watch.
The second installment in Amnesty Unsubscribe Me campaign, the first being Waiting for the Guards. As you can guess, this one is about waterboarding.
Watch it. (Flash Video)
New York Divided is an exhibit which draws from the New-York Historical Society rich collection to explore the turbulent half century of the city's history with southern slavery.
The exhibit spans thru several medias, including a website and obviously video installations and short movies, like this one directed by Benjamin Goldman.
Watch it. (MPEG-4)
Trailer for the new Errol Morris documentary on Abu Ghraib prison is riveting. BTW, as some of you might know, we have a category dedicated to the Errol Morris documentary style: recreations, meditative music, eloquent interviewees and detective work disguised as film research.
Now, this is propaganda!
A new cartoon of love and loss in the distant future. Thirty second breakneck heartbreak internet turbodrama, emotion at nine thousand kmph…
The short (and/or series of five episodes) has been written and directed by David O'Reilly for Creative Review and it's influenced by the comics of Jason AKA John Arne Sæterøy. Audio by David Kamp.
Watch it. (Quicktime, MPEG-4)
via Cartoon Brew
Join the LCPD and fight the Terror. Yes, the Terror…
Watch it. (Flash Video)
A dark comedy, circa 1992, in which an utterly random event reveals the most inhuman aspects of life in a bureaucratic system. A strange substance flies in from nowhere and lands on an unwitting Administrative Analyst, who is slowly consumed. Much paper-filing and bumbling ensues.
Watch it. (Flash Video)
A beautiful short animation by Swedish director Åsa Arnehed. Here's what Andrew Allen said on his place at Short of the Week, where I've found the film:
It moves at a crawling pace that, ironically, catches your attention among the mish mash of seizure-inducing videos online. Everyone fights for attention by making things bigger, brighter, and faster, and so no one stands out. It takes a well-timed film like this to bring things back into balance.
Watch it. (Flash Video)