Here is the sad truth behind those crappy relationships.
A new web series that follows a weed delivery man and various clients he caters to. Fantastic performances with writing that feels and sounds so real that I can't imagine the dialogue to be anything but transcriptions from real conversations. Sample below.
Vice is giving us access to worlds and point of views rarely seen anywhere else. Their expose on Karachi was dangerous and raw. This video is not as dangerous but the access is still amazing.
If You've Never Been to Karachi, You've Never Been Killed
This is incredible ballsy journalism. Mingling with some of the most dangerous people on this planet in one of the craziest, most violent cities with an educated, skeptical commentary to round it off. The top video is part one of 5. The rest are below.
Sad and hilarious when the kids snaps about the oil sticking to her feet.
(via Duncan)
The short film To Build a Home (directed by Up the Resolution) is made from the music videos for two songs of The Cinematic Orchestra: To Build a Home and Breathe.
A beautiful song and a beautiful video. I'll leave to the music and the images because there is really nothing I can add.
Watch it. (Flash Video)
One in a series of "8 new music videos commissioned by Massive Attack to be released alongside their eagerly anticipated album Heligoland."
Dir. Adam Broomberg and Oliver Chanarin / UK / 2010
Watch it. (Flash Video)
After stealing an old door, a man reflects on the desperate circumstances that led him to do so.
Oscar nominated short film by Juanita Wilson.
Watch The Door.
(via Directors Notes)
So incredibly touching. I am in tears.
If you are overwhelmed by all this Health Insurance talk in Washington, you need to listen to This American Life podcast. They identify the roots of the problem in this part one of two. Journalism at its very best. It doesn't matter what you believe in, it will challenge your beliefs.
You can listen part one here. Part two will up next week.
Stupidity can be quite scary.
Appalled by modern day sex slavery, filmmaker Libby Spears began a covert investigation to document the worldwide child sex trafficking problem, and to see how and if it led back to the United States.
Watch the moving trailer to the upcoming documentary and visit the official website to support the project.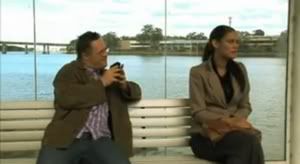 Be My Brother proves that one doesn't need a lot of money to produce an outstanding short. Winner of Tropfest 2009. Watch all the Tropfest films here.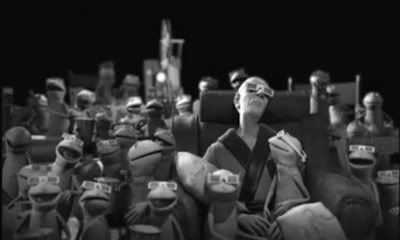 Kermit the frog discovers the dead body of Jim Henson. A beautiful tribute to the creator of the muppets.