More information on my videoblog.
Watch it Quicktime – Leave your comments.
Award winning short film from Todd Tinkham.
A Christmas card in video and bokeh.
Along with giving and receiving gifts, driving to see family has become a holiday tradition (Jesus who?). In these parts, as I drive by small towns, the silent glow of holiday lights bring out the warm fuzzies within me.
The song is the theme music from Eternal Sunshine of the Spotless Mind, composed by Jon Brion. A song that I can play in repeat forever. Seriously, can music get any prettier than this? Kelly and I have been dancing to this ever since I downloaded it, the video also tries to capture some of that.
I have posted my short film on Squigglebooth. I am going to let it sell itself.
My good friend, JaCynthia Shepherd, recalls her experiences on the Public School Bus system. It seems she received much of her education while riding to and from school.
Playful, cute, humorous and even a little disturbing.
Sometimes, the best place to think is on the road.
I am taking part in the Videoblogging Week 2007 (a video a day from April 1st to the 7th). The first installment was a prank on my neighbor.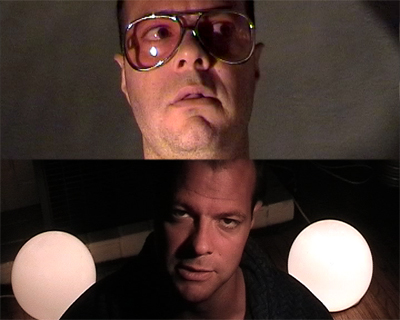 Ron:
It is always intriguing to see yourself through other people's eyes. Ajit wrote this and it is loosely based on the conflict in my creative life. It was shot, acted and edited by me.

To see more of my humorous videos, please go here.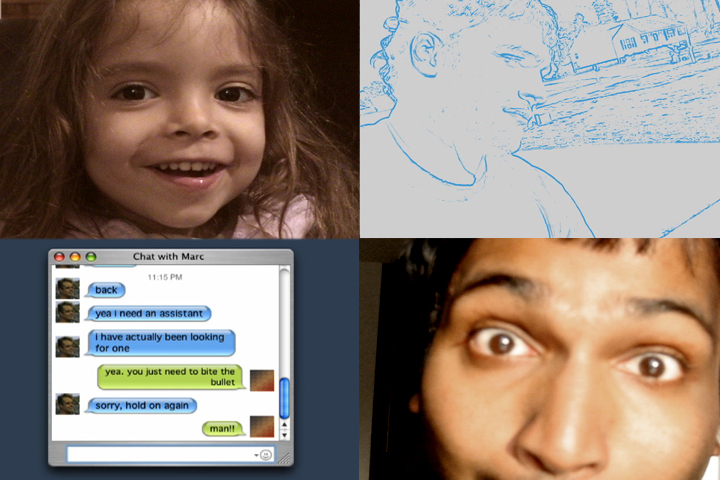 Some good 'ol multi-media silliness.

I will be on a panel on videoblogging at the PodcampAtlanta (Un)Conference talking about SquiggleBooth. If any of you live in the area or can drive up, please do come and say hello.
The videoblogging panel will take place in Atlanta on Saturday, March 17 at 1:45pm in the Governor's Hall room. I will stick around after the session, if anyone is interested.
Besides me, the other panelists are:
Kary Rogers – Inside Mr. KaryHead and Good Commitment
Erin Nealey – Mom's Brag Vlog
Chris Daniel – nTune.tv and Chris Daniel's Video Blog
Grayson Daughters – The Spacey Gracey Review
A pretty diverse group, it should be interesting. The discussion will be moderated by Ben Ramsey.
Directions and other info can be found here:
http://podcamp.pbwiki.com/PodcampAtlantaSessions
Please register here: http://podcamp.pbwiki.com/PodcampAtlantaRegistrants
As an online film critic and impartial judge, Ajit has asked me to pick 2006's Best Of Squigglebooth. Over the past year, we have watched Squigglebooth evolve as a place to express doubt, anxiety, and beauty. Its first episode, posted in May of this year, was an expression of love and a dedication to memories that fill the lonely void of time spent apart. Since then, Squigglebooth has become a collaborative effort to challenge the mind and the heart through visual expression. With 27 squiggles this year, each unique in its message and presentation, it was hard to choose "the Best" but here are my top picks.
Blurring Fat
I've always believed that you could see some ones passion and insecurities by looking them straight in the eye. This blurred video takes that concept and illuminates it by adding a steamy glaze that covers the bodies and their reflections in the mirror. It is a literal discussion, not unlike one that you may have had with a spouse, about the concept of beauty and how one's comfort in life can affect the way that they maintain their body. Not to mention, after going home, eating tons of food, and spending time with the family, I feel like this short is a reflection of my current post holiday routine.
Tuning Out Roadkill
Not for the weak of the stomach, I was a little afraid to watch a piece that highlights the tragic loss of fuzzy animals on the side of the road. Once I was able to get past the images and look deeper into the meaning, Tuning Out Roadkill proved to be a chilling monologue about the cold, harsh reality of death. Directed, edited and scored by Squiggles founder Ajit Anthony Prem, this short feels especially pertinent, as the war in Iraq appears to have reached another turning point.
Extreme Skipping
I think the concept of passion and sports is one that has been up to debate for ages. Is dancing a sport, horse riding or jumping rope? It depends on who you ask. Some one who is passionate about their past time, trains to become athletically elite, and always demonstrates good sportsmanship deserves to claim their sport, no matter how ridiculous it may be. This short by Marc Miller is a parody on the challenges of many athletes to prove themselves as just that.
Unlike much of the other Squiggle podcasts, this podcast is purely sensory. No stories, no characters. So take a break from your day and dive into these beautiful waters.
Picasso supporter – Ajit Anthony Prem
Jordan supporter – Scott Wallace
Which side do you fall on?