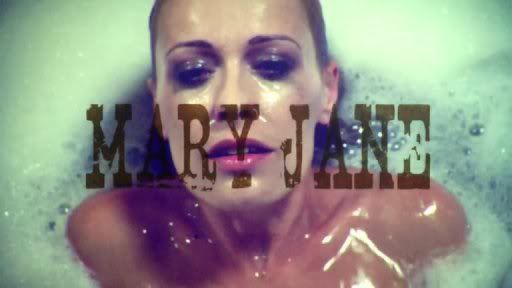 Lee Van Cleef is my DJ
What does a beauty pageant and spaghetti westerns have in common. Well, apparently, the soundtrack since Francesco Calabrese did this unofficial spaghetti cut of his promo for Dieter Schöön's single Mary Jane (from the album Lablaza), starring Simona Nasi.
One of the many gems that will be playing at the Carrboro Film Festival this weekend.
Christopher Frayling looks at one of the best westerns movies ever, Sergio Leone's Once Upon a Time in the West.
Watch it. (Flash Video)
Previously: my favourite scene.
Many have compared Andrew Dominik's direction of this movie to that of Terrence Malick. I can see it: long, beautiful shots in outlaw country with wistful meditations on the nature of death and violence. If you like Malick, you should like this movie (do I have to spell out the entire title? Theater tickets read Jesse James!).
This is the second great Western of 2007, the other being 3:10 to Yuma. Both movies are wonderfully different, celebrating a different part of filmmaking. 3:10 to Yuma's story is the focus, the director's objective was to let that aspect come to the fore. With The Assassination of Jesse James…, the focus is on the moment to moment trajectories of its characters. Both films feature two males who have a fondness for each other. One mythological figure and one who aspires to be one. Their relationships are riddled with paranoia and distrust. Maybe in a different time and place, they could have been friends. It is impossible for me to say which of these films I like better, it is like deciding between water or air.
The Assassination of Jesse James…, as expected, much of the plot can be found in the title. Yet it never fails to be intriguing. The why over the what. Why is he going to do it? Why? Why? Why? And the answer is never promised in a neat psych class term paper. It is to be expected from the start that the answers are more subtle but nevertheless there.
Ultimately, the film concerns itself with myth. Not in a myth but in the unraveling of it, the results of that unraveling. Meaning, we learn many myths when we are young, things that spark our imagination but eventually as one breaks, we seek to break another. At first, we break them inside of us and in other times, we seek it to break it for others permanently. In many ways, this film mourns those losses.
My recommendation is to see the film in the theaters. Do not wait for DVD, you will miss so much of the cinematic beauty. The editing is wonderfully daring. At times, I couldn't help thinking how they got away with keeping so much of the film. Great ensemble cast. I am always amazed how Brad Pitt invents ways to bring attention to his mouth. Casey Affleck is perfectly casted, it would have been a shame if the Coward Robert Ford were portrayed by another actor.
A great Western is unlike a great film from any other genre. When you walk out of a great Western, you wish to be transported back in time (even if you don't really want to), you have a better understanding about the nature of violence, what it is to be a man and sometimes even about friendship. Unlike other mediocre Westerns, the great ones aren't simply fascinated with locales or guns, their focus is on the people and what they do in survival mode.
3:10 to Yuma might be up there with Once upon a time in the West for me, which is my all time favorite Western. The friendship at the heart of the movie is fantastic. I cannot think of another film in recent times that had a such a great ensemble. Ben Foster as Charlie Prince is just out of this world. Whoever dressed the man should get an award, he probably got most of his insight into his character from his clothes.
Russell Crowe and Christian Bale are always just tremendous. Has Bale sucked in a film yet? Even in Batman, he was good. Crowe is so at ease at playing confidence. His stature, his eyes. It almost seems like he walked onto to the wrong set while looking for a production of Don Juan. The man is smooth.
I like the direction, it isn't your typical Western where landscape cinematography is as important as anything else. There aren't any memorable montages or a fantastic crane shot. Everything is centered on the people and their actions. To some, it might indicate a lack of imagination but to me it shows incredible discipline. When I was driving back home, I couldn't think of any character and any relationships that didn't make any sense. And while the story is great, in the wrong hands, it could have been unbelievable.
Seriously folks, go watch this movie. My wife and I aren't the types that watch John Wayne films all day but after this we have taken a new interest in Westerns.
Are you ready to enter the world of Sergio Leone Ennio Morricone?
Go! (Quicktime)
Todd Blanston (Bill Murray) substitutes the regular star on The Whip Master and shows his (in)abilty with the whip!
A laugh out funny short short from the golden age of Saturday Night Live.
Watch it. (Flash Video)
Someone remixed the end of "Once Upon a time in the West" with the Arcade Fire song. One of the greatest scenes in my opinion. It is not a perfect match to the song but one does not disturb the other. Frankly, the original footage is so captivating that it is just nice to see it again with different music.
Watch it – the glorious original
Note: if you haven't seen the movie, I suggest not watching either of these two pieces.
Update: BBC doc on the original film is quite good.
This past Oscar ceremony was filled with montages. Much of it stunk. I can't understand how anyone could actually muck up such an easy task. Here is a classic montage consisting of images from the 500 greatest movies. Commissioned by DGA (Directors Guild), and edited by Chuck Workman. If you are film fanatic, it is hard to resist getting choked up.
One of the best music videos of 2007!! I love its ambitious tale, its pacing, the semi-cheesy effects. But most importantly, I can say unequivocally that it is an absolute original.
I have no idea what the real meaning of the plot is and I am not entirely sure I want to know because the experience is better for it. I have already watched it several times, reveling in its style which stands somewhere between Sergio Leone, Antonioni and Lynch. The walk after he gets cured is wonderful. A special mention should also be made to its visual texture.
I am also somewhat surprised to see some of the negative comments at Antville towards this video. Most videos don't get any comments but this one (as of right now) got 34. The early comments were especially harsh. So I am guessing you are either going to hate or love it (or maybe even be a little jealous).
– Same crew that created this. Another original.
A lone eagle guides us towards a secluded canyon where two gunfighters silently face-off, each waiting for an opening.
A short animation by Gábor Homolya out of Spike and Mike's Festival of Animation DVD.
Watch it. Watch it here. (Flash Video)
via Giavasan
Here we go again. Corentin Laplatte, Samuel Deroubaix and Jérome Dernoncourt are three students of Supinfocom, and OUT is their graduation work.
An acrobatic pilot and his ringmaster meet Shirley Temple and Henry Fonda in the images of old John Ford (+ High Noon) westerns.
Watch it. (Flash Video)
The band Mon Ami wanted a video turned over in two weeks. The solution was to get 7 artists to do 20 seconds each.
I can't find the details about all the people involved in the project, but the file is hosted by Gareth O'Brien, who did the Lego scene and the line dancer near the end. I've also recently posted his short movie, Semi-Competitive.
If you know/are one the other film makers, feel free to leave a comment.
Watch the video. (Quicktime)
DeK says:
The two train station scenes in Sergio Leone's "Once Upon a Time in the West".

The beginning, where we wait with the three gunmen for ten minutes, until the man with the armonica comes. And later in the movie, when Claudia Cardinale arrives at the station but nobody's waiting for her (and we know why)

I basically love them, because… that's what I call cinema! Editing, costumes, music… they're not just a contribution to the narration, but a fundamental part of it.
______________________________________________________________________________________
Scott says:
One of my favorite scenes is also a Sergio Leone moment from "A Fistful of Dollars".

Early in the movie Clint Eastwood guns down a few guys in order to show off his pistol skills. (And exact some revenge for his mule) I've always loved the scene, Clint seems down to earth, almost funny at the beginning, but turns incredibly mean looking when laughed at. The music builds to a climax as the camera goes from face to face. You notice Eastwood's eyes follow the spit come from the terribly dubbed actors mouth. Clint then guns them all down before they can get off one shot. Just a classic "mans man" scene.
______________________________________________________________________________________
Thanks guys, excellent start. If you like to submit a scene, comment here.