Haunting imagery with a vague semblance of a storyline. Effective nevertheless.
The video for Health's We are Water is a grotesque take on a cliché of horror movies (and music videos too!) The music video has been directed by Eric Wareheim (of Tim and Eric) and produced at Funk Factory.
Watch We are Water.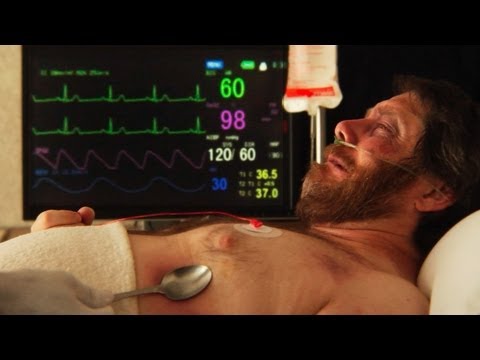 The Horribly Slow Murderer with the Extremely Inefficient Weapon by Richard Gale.
This is unlike anything Scorsese has done before. Watch the trailer here.
Boy! It gets your blood boiling. Though there are quite a lot of intellectual ideas hiding underneath the surface, it remains visceral.
Wonderfully creepy.
I miss this kind of animation. There is always a touch of madness. In this case, madness is everywhere. It is cathartic, like an excursion to all of potential rage possible within a being. Don't miss this classic, a mix between sci-fi noir (Blade Runner-like) and Akira.
I was half-interested in what was going on and the other half on how awfully sexy it all was.
Watch it (same director as Put your hands up for Detroit)
Never posted a comic before, but this horror manga by Junji Ito clearly deserves it. A good story and a satisfying final twist in only 32 pages.
Watch Amigara.
via Giavasan
Lost in a swamp, a traveler rushes in a gloomy bar where he can tell about the strange event he just lived.
A classic horror story.
Go for it. (AVI, Flash)
thanks, drekezit
Watching a film being dissected is better than reading about it. Mostly because you have to rely less on your memory. This two-part analysis of Stanley Kubrick's The Shining is an excellent example of that. The drama of The Shining overwhelms many of its hidden clues.
Part one deals with how the film was constructed to be scary. The techniques employed by Kubrick.
Part two is more of what Kubrick was trying to say indirectly. The connection to America and its American Indian past is fascinating.
Also click "more" in the side window, there are some juicy tidbits and facts about the movie there.
The editing and post production of Copy Shop took 8 months to complete — pretty astounding for a 12 minute film. After shooting on Mini-DV, Widrich printed and photocopied all 18,000 frames of the film and then re-shot the copies on 35mm. The resulting effect is mesmerizing.
Watch and get more info at Tropist
This Brazilian vampire short (22 mins) feels like a feature. I went back and forth about posting it. It is certainly beautiful to look at but the pace had me reaching for the scroll button. However, it is beautiful to look at and, if you have some patience, the mood is a blend of serene madness.
Hey ya! This is a cross blogged post. Another half of this post has just been posted on No Fat Clips!!!
Wouldn't it be great if we could all break out into song at emotional points in our life and start dancing with zombies? Well, maybe it wouldn't be that great, but it would be fun to watch! So…
Watch it! (Flash Video)
The clip is an excerpt from Happiness of Katakuris, which is covered on the cross blogged post. Jump there!