Lovely idea and execution.
via Dek on Facebook!
Another stunning video by Tobias Stretch.
Great song and performed beautifully. Shot by Steve Milligan.
Haunting imagery with a vague semblance of a storyline. Effective nevertheless.
I can hardly explain what it is. From NYT Lens blog:
"You're going from making iconic images to creating narratives," he said, "but there is less of a narrative capacity in 60 seconds, so you need to create something like a poem that can lead your imagination."
They are all weird oddities in their own way. Michael Douglas is the creepiest. One could write an epic novel based on those sixty seconds. Anthony Mackie's piece is also a standout. Matt Damon is a welcome sight. James Franco, well, that makes sense.
See the entire collection here.
A film full of ideas realized brilliantly by Robin Schmidt. Just lovely!! Vote for this film in the Driven Creativity competition. The filmmaker has new trailer out for his feature and it looks very promising.
Surreal. A short shot like a music video, with a narrative that plays hide 'n seek.
The video for Health's We are Water is a grotesque take on a cliché of horror movies (and music videos too!) The music video has been directed by Eric Wareheim (of Tim and Eric) and produced at Funk Factory.
Watch We are Water.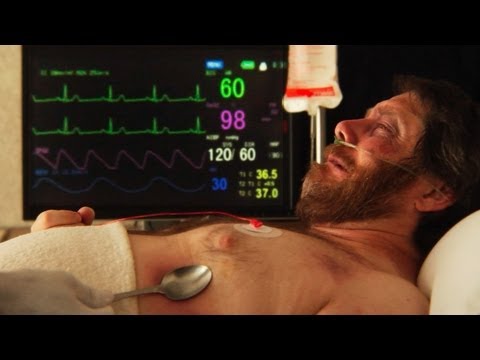 The Horribly Slow Murderer with the Extremely Inefficient Weapon by Richard Gale.
…the title sequence to Ruben Fleischer's Zombieland does not back down. Flashes of jarring death slathered with slow speed splatter document a kinetic finality that does not force its humor. We see every black bauble of biohazardous blood upsurge and dot the landscape of a crippled Earth.
U can has it at Art of the Title along with an interview with Ben Conrad of Logan.
To mark the bicentennial of the birth of Edgar Allan Poe: January 19th, 2009; this adaptation of Edgar Allan Poe's dark and twisted tale of vengeance… Produced and directed by Mario Cavalli.
Requiescat in pace.
Watch it. (Flash Video)
Dark, harrowing short film showing the complexities of psychological and obsessive behavior.
Directed by BIF. Visual effects: The Mill.
Watch Dix. (Flash Video)
via Ehrensenf
Two young sisters do everything they can to avoid confronting their mother, who seems to be visiting from a strange — and very scary –- planet in a different universe than the one they inhabit.
A short movie directed by Andy Muschietti and produced by Barbara Muschietti, soon(?) to be made into a feature film.
Watch it. (Flash Video) [Thanks, T.]