Would you choose Wolverine's claws? Or his mutant healing?
Watch it. (Flash Video)
Feature length doc.
In the summer of 2006, while the football world's attention was focused on Germany, thousands of players around the globe were training hard and competing to be part of another World Cup … The Homeless World Cup. It had been a wild idea by a Scot and an Austrian—to give homeless people a chance to change their lives through an international street soccer competition. Five years later, the annual Homeless World Cup had become an internationally recognized sports competition. 500 homeless players from 48 nations would ultimately be selected to represent their country in Cape Town, South Africa – coming from such disparate parts of the world as war torn Afghanistan, the slums of Kenya, the drug rehab clinics of Dublin, Ireland, the streets of Charlotte, North Carolina, the overflowing public shelters of Madrid, Spain, and the unforgiving city of St. Petersburg, Russia, where the homeless have no rights or identity. Win or lose, for these players it would be the journey of a lifetime.
One of my favorite shorts of the year. One of the most gorgeous films, whether it be shorts or features, I have ever seen. Every shot tells its own little story.
A man comes back alive, in a post Katrina world, to lead a bunch of lost souls back to sea to meet their destiny. An great and important story told in the most beautiful way.
A classic, don't miss this.
Some information about the project.
(If anyone has more links about the production, pass it on)
Powerful essay on the recent acts of cowardice and heroism in Mumbai.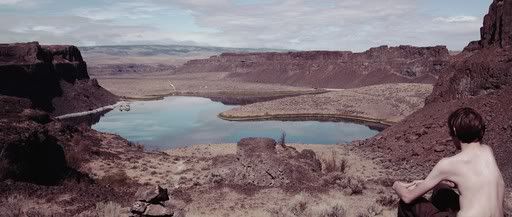 Set at the turn of the century and shot in the epic landscapes of Eastern Washington, the video invokes the hard times of the pioneer past.
The music video has been directed by Matt Daniels and produced by Jaime Keeling at Thinklab.
Watch it as: Flash Video (HD) or MPEG-4 (SD)
BONUS: Additional materials include a photo gallery, a behind the scenes video and an interview.
A delicate and lovely dense macabre exploring one of the darkest of human aberrant notions: how easy it would be to poison a person. Domonkos masterfully mixes old and macabre footage providing a gentle chill to the complacent. Is that a real photo of a corpse mixed in with his lovely animation? The thought is there for those who choose to think it.
Watch it. (Quicktime)
More Bill Domonkos at Lumen Eclipse as well as at his place.
Paul (Antoine Coesens Lazaro), an obsessive casino player, finds himself with lots of debts and it is threatened with death by Benjamin Stern (Jean Claude Dauphin), his creditor. His friends now refuse to lend any money, he then decides to commit the unthinkable: sell one of its organs […] But by committing this act against nature, Paul puts his finger in a grim spiral that takes him to the borders of madness and death.
The short movie has been written and directed by Sébastien Drouin and produced by himself and Pierre Buffin at BUF.
The film is in French language, with no subtitles!
Captivating images that highlight how wonderfully heroic people are.
The intro to last night's Obama's speech was quite moving. A great American story. I was so moved, I have to admit I was a little teary-eyed. I was raised by a single mom, how can I not be. Well, I turn on the Daily Show and they top it with pure brilliance!
The Daily Show version versus the real deal.
Bonus videos:
This film is constantly voted the best documentary of all time. It is available in full at Hulu in 420p HD. Cannot get better than that online.
The film remains relevant just like it did when it first came out. Two young basketball players struggle to fulfill a common dream which is to make to the NBA. The two kids have contrasting styles and personalities, each story could have made a great documentary in of itself. But together, the stories highlight the hi's and lo's of each story even better. Once in a lifetime kind of movie.
A wonderful story coupled with the cheesiest music. It is hard not to get emotional.
One of the best trailers of the year. I am confident the film will live up to the hype. Fascinating story, based on the short story by F. Scott Fitzgerald. By the way, the cinematography looks incredible. One sad catch, it will be released around Christmas.
The second installment in Amnesty Unsubscribe Me campaign, the first being Waiting for the Guards. As you can guess, this one is about waterboarding.
Watch it. (Flash Video)
TAC (Traffic Accident Commission) in Victoria, Australia, has released a three minute advertisement featuring people who have lost family members in speed-related crashes.
The campaign was developed at Grey, Melbourne. Filming was directed by Mark Molloy at Exit Films.
Watch it. (Flash Video)
Download. (Quicktime)
The book by Ian McEwan is one of my favorite books of all time. Surprisingly, the movie lives up to the book. I expected the film to be decent, not great, as I haven't heard much of a buzz for this film. However, after seeing it, I'd be shocked if this film doesn't get a Best Picture Oscar nomination.
One of the fears I had about the movie was it would abandon the beautiful structure that McEwan devised to tell the story. Thankfully Christopher Hampton, who wrote the script, not only keeps the structure but also manages to keep some of McEwan's poetics. The scene where Briony sees her sister and Robbie near the water fountain is exactly how I had pictured it from all of the various perspectives.
A lot of credit should also go to Director Joe Wright. This easily could have been a film that we as an audience could watch from a distance. Instead, almost everything is seen through the eyes of a character. Everything is laced with a character's subjectivity. To switch perspectives, there is no fade to black or any other visual device. It is a stream of consciousness that switches back and forth. So well done!
The biggest difference, in terms of emotions, is the beginning of the second half of the book/movie. The book's second half numbs you to the pain from the 1st half. One of the greatest scenes in any book I've ever read. The movie sadly disappoints here, why wasn't there more walking? more brown? more carnage?
The acting ensemble is solid. I am not entirely convinced of Keira Knightley as Cecilia, however, James McAvoy as Robbie is picture perfect. To many, this might seem like another stuffy costume drama. This is as modern as any film you will find. From the story to its character to the film's style, there is a lot of risk taking. Go see it, this is one of the great tragedies of our time.