The spoken word is brilliant. The animation is equally brilliant. It improvises, moves, thinks like it were alive. No specific style but a series of connections. This should be played in every classroom.
The power cut off in New York City after Hurricane Sandy. The video is an inside look at what it felt and looked liked.
Really good story telling. Almost every scene comes as a surprise but because it remains motivated, the short has a flow and rhythm to it.
(via No Film School)
If You've Never Been to Karachi, You've Never Been Killed
This is incredible ballsy journalism. Mingling with some of the most dangerous people on this planet in one of the craziest, most violent cities with an educated, skeptical commentary to round it off. The top video is part one of 5. The rest are below.
It is such an amazing story that it is hard to believe that it is based on the truth.
Incredibly strong graphics for an important cause. Just three colors used throughout.
"The Hapless Antiquarian" is a filmed homage to the macabre tales of American author & illustrator Edward Gorey. written, directed, photographed and edited by Anthony Penta. Starring Scott Hoye.
A package needs delivering in this collaborative film by Myles Lewando and Benjamin Tucker. The concept was to show a snapshot from a longer narrative, leaving the audience the freedom to use their imagination to insert their own beginning and ending. Balli Ga (???) directly translates from Korean as "Quickly, go."
The end of the world as we know it isn't in this music video directed by Megaforce.
Watch Solitude is Bliss.
NSFW.
http://www.dailymotion.com/video/xd2w3j
Meanwhile, in the fictitious world…
In the aftermath of an atrocity, Peter, a paramilitary, is confounded by a detective's questioning. An answer might offer a kind of redemption to both men but threatens to condemn Peter to a long prison sentence. Does he know the answer?
A short film by Billy McCannon.
Totally love the concept of differential coreography. Not sure about the execution. The director is Saam Farahmand.
Watch (Full HD) – Download (SD) – Discuss
The video for Health's We are Water is a grotesque take on a cliché of horror movies (and music videos too!) The music video has been directed by Eric Wareheim (of Tim and Eric) and produced at Funk Factory.
Watch We are Water.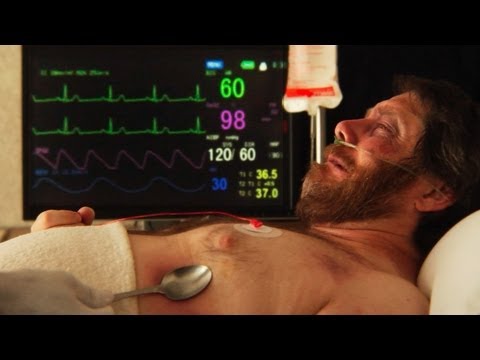 The Horribly Slow Murderer with the Extremely Inefficient Weapon by Richard Gale.