The apparent sell are the beautiful strippers but the feeling the effects generate hints at a larger more intriguing story.
TwitchFilm has more. Definitely NSFW.
Fantastic art decoration and cinematography. (via Nozap)
Supreme geekiness watch. Both videos found here.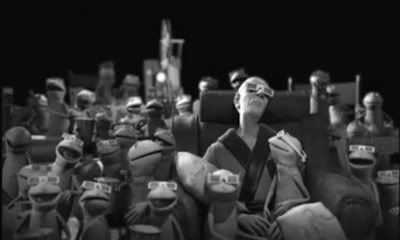 Kermit the frog discovers the dead body of Jim Henson. A beautiful tribute to the creator of the muppets.
Be a little patient, there is a reason for such repetition.
Is it just me when I laugh instead of admiring these competitors? I think #14 has something to do with that.
I can't possibly post anything cooler than this. A man sacrifices his face in the name of…videoblogging?
It's the hot new cereal that's low in price!
Watch it. (Flash)
Flash Video on my source, Ehrensenf.
Like America, some of the greatest British journalists and analysts also happen to be comedians. Watching The Last Laugh with John Bird (in the guise of investment banker, George Parr) and John Fortune (together known as the Long Johns), the same can certainly be said in Britain as well.

This is a transcript of this insightful comedian team who brilliantly and accurately describe the mindset of the investment banking community in this satirical interview. It was especially insightful considering this was recorded last year.
Watch it. (Flash Video)
An unauthorized video for Cartoon Song by Chris Rice, a song intended as a parody but taken to heart by the Christian community.
Watch it. (Flash Video)
Fun, clever little something.
I love this. Strong concept, simple but truthful execution.
Duel – The best ice cold western.
Emerge – The smallness of fame.
William Tell – Modern telling of the classic tale.
Vital Capacity – The struggle to maintain dreams.
Arrow Game – I want to play this game, however unsatisfying.