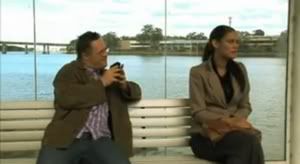 Be My Brother proves that one doesn't need a lot of money to produce an outstanding short. Winner of Tropfest 2009. Watch all the Tropfest films here.
What a trailer! Interesting to see them connect the micro of steroids with the macro of American politics and outlook.
I do. Can you feel the excitement?
(via Metafilter)
I have mentioned my love for NPR's This American Life before. But a recent episode was just out of this world. Act 2 had one of the best stories I have ever heard. The theme for the episode is Super, you know, the guys that take care of the apartment buildings. I would suggest you stop reading and start listening. Don't miss act two.
The show page – the direct link to the mp3 (this may stop working after a while).
I can't help watching this over and over again. One of my favorite online videos of all time. You can never recreate something like this.
Gawker media is hosting a video that will most likely cause them legal migraines. It features Tom Cruise talking passionately about his connection with Scientology, more passionately than Katie Holmes which means it is pretty friggin' crazy. I hate that the questions were edited out because I am sure his answers wouldn't sound so nuts. But having said that, Cruise sounds incredibly creepy, obnoxious and self-righteous. Like a generic cult leader, he states "you are either in or out!"  At first, it seems like a joke but as he carries on, you start believing that this guy believes everything he is saying. In this long spiel, I heard a lot of Franck C.J Macky, a  character Cruise portrayed in Magnolia.
Can you tell them apart:
Exhibit A: Seduce & Destroy from Magnolia (part one & two)
Exhibit B: Cruise Indoctrination Video
(Thanks Mags)
The Lord of the Rings director first feature back in 1987 is available online.
An alien prevention group called Alien Investigation and Defence Service' – A.I.D.S(!)¸ wage war on aliens that have come to earth to supply an intergalactic fast food chain with a new dish – human flesh. They meet many challenges and many aliens (who can easily be distinguished by the blue oxford shirts they all wear) along their quest of stopping the invaders. It is very difficult to believe that Peter Jackson (as in Peter "Lord of the Rings" Jackson) had anything to do with this movie. But¸ not only did he direct this home-grown funny¸ he played the main character – derek¸ who spends the majority of the movie losing pieces of his brain out of a wound in the back of his skull. This movie has a certain monty python meets my 2nd grade class clown kind of feel. Except without the class or the monty python part. And I mean that¸ as a compliment.
Watch it (1 hour & 31 mins)
One of the funnier bits is the guy dancing in the beginning. The next new dance sensation: a 3D figure imitating human form.
Here's a couple of viral videos realized in the 80s by Microsoft for MS-DOS 5 and Windows 386, respectively.
Watch  YO! MS Raps. (Flash Video)
Watch Windows 386 Promo. (Flash Video)
I personally believe that you've already seen it…
Anyway, some of the parodies sprouted around are pretty funny.
Watch the original video.
Watch Miss Teen's Parents.
Watch Miss Teen's Inspiration.
Watch Jimmy Kimmel's Explanation.
And finally, here's your map!
A short documentary series about the counterculture that exists within Burning Man which is a counterculture event to begin with. Well produced, this should be on television. I mean that as a compliment.
Watch it (thanks Steve)
Chainsaw kung-fu – you could almost hear the brainstorming session that made this stuff up.
Street laser fights – if this took any longer to make than an afternoon, I'd say it was a waste of time. (via Transbuddha)
Shoot from the crotch (posted Earlier) – even among this crowd of videos, this films seems to be a standout in altering reality.
Worst Fight Scene ever! (posted Earlier) – one of my favorite Ticklebooth posts ever.
Ladder Fight (posted Earlier) – I think they shot the Chainsaw scene and this one in the same location.
Kung Fu vs Yoga (posted Earlier) – this is actually a decent fight scene, the tall Yoga/ Indian guys is what gives this a streak of wackiness.
While interviewing Tommy Chong about imigration, Neil Cavuto finds out that somebody dares to think that G.W. Bush is not da best president evah! WTF?!?
Watch it. (Flash Video)
Two hilarious fight scenes. I am still laughing my head off. I don't know where the first clip is from but the second one stars Rajnikanth, a South Indian Megastar. Superstar would be understated, I am serious.