After stealing an old door, a man reflects on the desperate circumstances that led him to do so.
Oscar nominated short film by Juanita Wilson.
Watch The Door.
(via Directors Notes)
Societys obsession with video and online gaming has advanced to the point that virtual environments are indistinguishable from physical ones.
A short film by David Kaplan and Eric Zimmerman.
Watch it. (Flash Video)
(via Great Dismal)
An elderly man fishing on a tempestuous sea is a metaphor for loss of memory and loss of self. As everything he tries to "catch" slips through his fingers, so too the world slips away and he becomes undone.
A short film by Hayley Morris, Grand Jury Prize at Slamdance 2009.
Watch it. (Flash Video)
(via Cartoon Brew)
At the height of the Great Depression, the showman of a renowned circus leads his troupe through the devastated American landscape, lifting the spirits of audiences along the way. During their travels they discover, Will, a man without limbs who lives out his life in a sordid carnival sideshow, far below his aspirations of the grandeur of the great circuses. Having only known a life of limitation and discouragement, Will is struck by an intriguing encounter with the showman that leaves him with a drive to hope against everything he has ever believed.
Winner of the Doorpost Film Project, this short film by Joshua Weigel will be expanded into a feature length film.
Watch it. (Flash Video)
thanks Phil!
A quick-tempered father argues with his son last time. The child decides to leave the family home. Dancing is the high point of the exchanges between the two characters because it is their only means of communication.
Gruaduation film by J-C Mbotti Malolo.
Watch it. (Flash Video)
In this short animated film by Régis Camargo, an unexpected visitor named Fred comes to Sandy's window, asking for her help to take him home. Oh, by the way, Fred is a lion…
Two powerful leaders fighting for territory start a world war. Two pilots from both sides are entangled in a dogfight in the air. By chance, the two pilots are stranded upon a small island in the middle of the ocean.
An animated film by Jokelate.
Watch it. (Flash Video)
Arjuna the Archer is a short animation directed by Eriyat Suresh at Famous Animation and based on a concept by Senthil Kumar at JWT.
Far from the world, close to the heart.
A short film by Robin Risser.
Watch Solitude.
Melody Z is an intimate short film portrait of the nightlife generation in Shanghai, 2006.
Li Wei, a young sexy night flower working in a trance music club, lives together with her DJ boyfriend. The two live a nightly existence of dreamy trance music and colourful neon light.
A short film directed by David Verbeek.
Watch Melody Z.
Anyone who has ever moved away from home can likely relate to the concept.
A spec commercial by Dan Sheppard. Music: The Trapeze Swinger by the Iron and Wine.
Watch it. (Flash Video)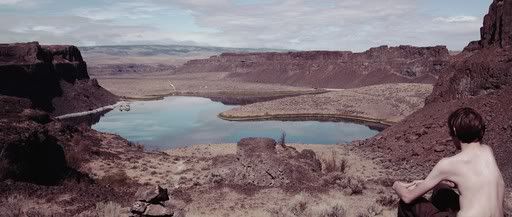 Set at the turn of the century and shot in the epic landscapes of Eastern Washington, the video invokes the hard times of the pioneer past.
The music video has been directed by Matt Daniels and produced by Jaime Keeling at Thinklab.
Watch it as: Flash Video (HD) or MPEG-4 (SD)
BONUS: Additional materials include a photo gallery, a behind the scenes video and an interview.
A girl starts a battle with a city tyrant, without speaking a word…
Directed by Sander Alt. Animated at Urrebuk. Produced at Revolver.
Watch it. (Flash Video)
The idea was to create a short movie about beached creature and use Baltic sea environment.
A short film by Tadas Svilainis and Justina Rutkauskaite. Music by Skinny Puppy.
Watch it. (Flash Video) [Warning: nudity]
In allegorical form, the film tells about spiritual enlightenment. The heroine of the film, the Mouse, owing to meetings with the Raccoon, the Frog, the Bison, and the Bear, changes spiritually. And the meeting with the Eagle changes her essence.
A short film by Elena Gavrilko and based on "motives of a fairy tale of the North-American Indians".
Watch it. (Flash Video)
thanks to Niffiwan