25 days, 34 films, 1 tribute by Leandro Copperfield.
Newly signed Biscuit Filmworks director Aaron Stollar directed four hilarious spots staring Tom Cruise and a crapload of other stars for the MTV Movie Awards 2010.
Glossy has the whole package. Check out Les Grossman Show Opener, Risky Business, Hair and Wedding. Full credits are here.
1851: Elias Howe receives patent for an "Automatic, Continuous Clothing Closure" (zipper) 1889: The Eiffel Tower is completed for the Parisian World Fair of the same year BUT, one detail that the history books never mention is that the World Ended that same year in 1889, in Paris. Just then, Lucifer & the Archangel Michael hatched a successful plan, followed it through, overcoming perilous obstacles, and got the job done. For the first time, our film documents and re-creates the End of the World as it really occurred.
A short film by Carl Laudan. (via Short of the Week)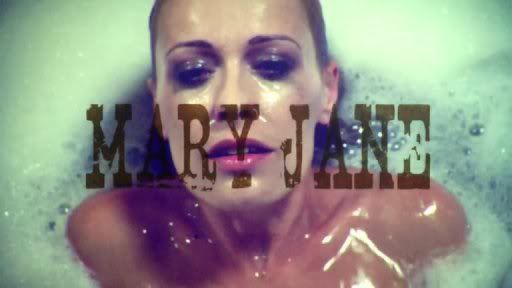 Lee Van Cleef is my DJ
What does a beauty pageant and spaghetti westerns have in common. Well, apparently, the soundtrack since Francesco Calabrese did this unofficial spaghetti cut of his promo for Dieter Schöön's single Mary Jane (from the album Lablaza), starring Simona Nasi.
Like America, some of the greatest British journalists and analysts also happen to be comedians. Watching The Last Laugh with John Bird (in the guise of investment banker, George Parr) and John Fortune (together known as the Long Johns), the same can certainly be said in Britain as well.

This is a transcript of this insightful comedian team who brilliantly and accurately describe the mindset of the investment banking community in this satirical interview. It was especially insightful considering this was recorded last year.
Watch it. (Flash Video)
A story about a prince who could marry any beauty in his kingdom, but instead chooses to wait for true love. As fate would have it, the prince finds true love in the form of a pumpkin.
The second installment in Cartoon Brew TV is this short animated movie directed by Tod Polson and Mark Oftedal. The story was co-written by Maurice Noble (1911-2001).
Watch it. (Flash Video, MPEG-4)
CBTV #4 should be out today. Tune in!
On what has become an electoral tradition, the JibJab crew sets their eyes on Obama & McCain (& Hilary).
Watch it (via Crooks & Liars)
The origin of the species is shown by an almighty puppet master who takes his puppet stage to a desert planet.
A short stop animated movie by Nick Hilligoss.
Watch it: MPEG-4 – Flash Video
via Transbuddha
There is hell to pay if you mess with Hitler's toys. Hilarious mash-up!
Update: Dek says it is a rip-off. The views in this video eclipses the other video and was also posted earlier. So I agree.
Marlon Brando's Screentest for Rebel without a Cause. One of the earliest recordings of Brando, handsome in all his boyish looks. He is not the effortless older self that we are accustomed to but he is still pretty convincing.
Photos of Marilyn Monroe and Brando by Milton H. Greene promoting a production at the Actor's Studio.
Brando appears in Monty Clift's home video. The playful side.
Brando and Robert De Niro improvising a scene for The Score. If you have ever been part of an improv, you will immediately recognize why these actors are so special. So relaxed, so "in the moment." There is a general plot in the conversations but each take has something completely different.
Brando plays with cheese in The Godfather's fake screentest.
Robert Duvall talks about The Godfather and then gets into Brando's acting techniques. Part one & two.
Interview with a young Brando. Never knew Brando had such drumming skills. A very different interview style from:
Interview with Larry King. Part one, two, three, four, five, six.
Meet Marlon Brando. Part one, two & three. Another fascinating look into Brando's strong personality. In many ways, Brando was very repetitive. This film was made by the Maysles brothers. Probably the most truthful portrait of the actor.
Christian Brando (Marlon's Son) on how well he coped as a celebrity child, this was before he messed up and daddy saves him. It is so weird watching both his sons imitate their fathers.
His speech (not a video) for refusing the Oscar for The Godfather read by an American Indian Woman.
Brando's entry in Wikipedia, it reads like an incredible story.
The Rutles are a legend. A living legend. A legend that will live long after other living legends have died.

This is the semi-legendary story of the Prefab Four who made the sixties what they are today!
The Rutles is Eric Idle's mockumentary about a fictional band who raved in the sixties. Dirk, Nasty Stig and Barry will delight your ears with their hits.
I think the movie is inspired to an actual band from the sixties, but since Mick Jagger is in the movie, I have no idea which one could it be…
Other appearences worth mentioning are John Belushi and Dan Aykroyd, Bill Murray and a certain George Harrison, I wonder who he is?
Watch it. (Flash Video)
Hilarious first episode to the Comedy Central series that hasn't seen the light of day (it is supposed to make an appearance in August of this year).
Amid revelations about faulty prewar intelligence and a scandal surrounding the indictment of the vice president's chief of staff and presidential adviser, I. Lewis "Scooter" Libby, FRONTLINE goes behind the headlines to investigate the internal war that was waged between the intelligence community and Richard Bruce Cheney, the most powerful vice president in the nation's history.
Watch it online – via growabrain
It is getting too easy.
Also, this piece slams the recent memory loss by the Republican Government. (thanks Paul)
This ad/podcast by Hillary election campaign is so so good. This isn't as funny as the Bill Richardson ad but in a different way this is as good as that ad. While Bill Richardson's ad begged to be included, Hilary Clinton's ad tries to surge past any other contender.
It works well on so many different level. You got the charming Husband/ Ex-President humbly saying indirectly that Hilary was always a better person than he was. The ad also softens the Senator's tough image. Many across the country view her as part of the establishment, this ad addresses that. If they play this on television for a good length of time, there will only be one Democratic candidate in a couple of months.
My comment below:
"I think gender is an issue but I doubt it is as big as everyone states it is. To me, the biggest obstacle is still her Washington-ess. Her quest for power. If they can manage to show, like in this ad, that power is not what she wants but instead the ability to change. They got a winner."