"Starring Willem Dafoe"! This Willem guy is pretty good.
Here is the sad truth behind those crappy relationships.
Good performances.
In a future filled with technology and sin, a hopeless romantic falls for a broken robot he buys at a sex shop, testing how far he'll go for love. A short film by Lee Citron.
Three lives, three identities, three points of view. Set against the harsh backdrop of inner city London, Fear/Love interweaves the lives of three adolescents as they struggle with who they are, who they want to be and who they are becoming.
Directed, written and edited by Rob Chiu. Produced for the I Care Revolution.
Watch Fear/Love.
A woman (Alison Bruce) and a man (Alistair Browning) are in love. They trust each other. And everything else flows from that. But what happens if that trust is broken? What can a relationship survive? And when we are left alone, how do we live with our regrets?
Watch Us. (Dir. James Blick)
"The Hapless Antiquarian" is a filmed homage to the macabre tales of American author & illustrator Edward Gorey. written, directed, photographed and edited by Anthony Penta. Starring Scott Hoye.
Life is good… A short film by Nuno Rocha sponsored by LG.
One cash register, two strangers, and about $3.50.
Watch it. (dir. Jason Roberts)
Based on the backstory of one of the most beloved children's novels of all time comes the extraordinary love story between a simple woodsman and a beautiful maiden. Not having many possessions but wanting to marry his maiden, the woodsman sets his heart to build a large and beautiful cabin.
The new short film from Whitestone Motion Pictures.
Watch Heartless.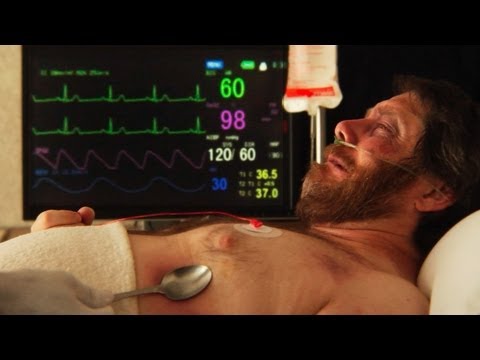 The Horribly Slow Murderer with the Extremely Inefficient Weapon by Richard Gale.
A boy (Luke Hayward) and his father (Liam Thomas) live a harsh existence against a desolate backdrop. Whilst the father is stranded, the boy's physique allows him to pass through a small tunnel leading to a place very different from their own.
Watch Tide by Luke White. [IMDB Page]
…the title sequence to Ruben Fleischer's Zombieland does not back down. Flashes of jarring death slathered with slow speed splatter document a kinetic finality that does not force its humor. We see every black bauble of biohazardous blood upsurge and dot the landscape of a crippled Earth.
U can has it at Art of the Title along with an interview with Ben Conrad of Logan.
Wanting versus having. The mechanics of desire according to Lizzi Akana.
Spike Jonze's film for Absolut is here. If you don't have a VIP invitation (and in that case you already know everything you need), you'll have to wait in line, like at a real premiere. In that case, you might find this interesting. Google is your friend.
Watch I'm Here.