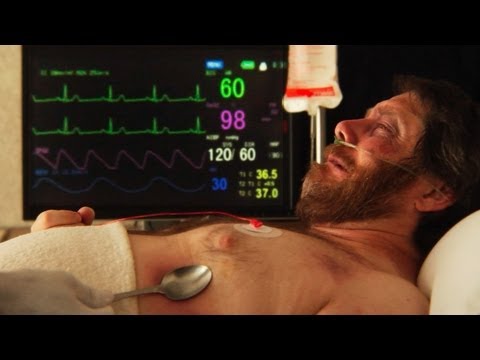 The Horribly Slow Murderer with the Extremely Inefficient Weapon by Richard Gale.
…the title sequence to Ruben Fleischer's Zombieland does not back down. Flashes of jarring death slathered with slow speed splatter document a kinetic finality that does not force its humor. We see every black bauble of biohazardous blood upsurge and dot the landscape of a crippled Earth.
U can has it at Art of the Title along with an interview with Ben Conrad of Logan.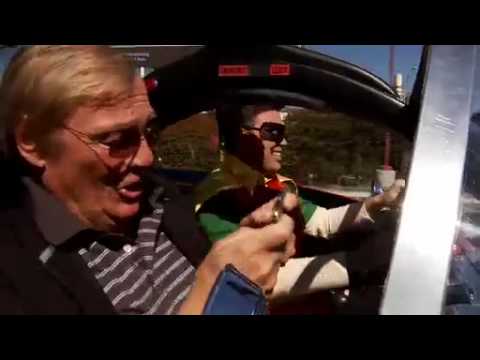 via James Wignall
A student project that looks like a million bucks. Great touch of comedy.
This commercial is the best thing to come out of the Zune product. It is more visual parable than a commercial. Maybe Zune seeks peace with the iPod?!
Watch it – via transbuddha
Old commercial featuring "Governator" enjoying a healthy helping of instant ramen after a musical work out.
Watch it. (Flash Video)
Videogame ads are so cliche. There are usually two types: 1) Noisy ones that throw everything and the kitchen sink down your throat at once, more is good mentality 2) Suspense thrillers that look and feel like movie trailers, deep baritone voices with a lot of fades to black.
The Halo ad is striking because there is not much kinetic action, only potential energy. Long cuts with little or no movements from the action figures. Instead the camera floats around the stillness of action. Mid-explosions in their ball-like ready-to-blow-everything-to-pieces stage is always a cool effect. The detail of the scenery only sells the game even more. The music and the "character's" faces are extremely powerful. Dare I say, even more heroic than human faces.
Watch it – more info on ad – via HD for Indies
Update: Interesting Wikipedia entry on the marketing. (Thanks Morey). Directed by  Rupert Sanders.
With all the money and the effort that Sony, Microsoft (and perhaps Nintendo?) are putting in them, they've become the new big thing in the promo industry. (Ok, looks like I'm repeating myself)
On the Microsoft side, we got Halo 3 and Bioshock. The former is being pushed by Neil Blomkamp's short movies inspired to the series, which are also aimed at supporting his feature film.
WATCH: Halo Combat, pt. I – Arms Race – More stuff
As for Bioshock, which looks like a good reason to update my PC, there are some nice commercials and trailers, realized at Eyeball NYC. (via Lola)
WATCH: Bioshock X06 trailer – 60 sec spot – More stuff
If you follow No Fat Clips!!! you certainly know of Sony's efforts to push Heveanly Sword as their killer application for the PS3. An animated series by Ben Hibon, a series of making of featurettes, dozens of design studios, music by Nitin Sawhney, dramatic direction by Andy "Gollum" Serkis, motion capture by Weta Digital… I hope that the game will at least be fun to play…
VISIT Heavenly Sword website. (Downloads available on NFC)
Last but not least, an honorable mention for Tabula Rasa.
WATCH: Tabula Rasa Intro – More stuff
The new season of Robot Chicken rolled out this week-end on Adult Swim. In the first episode, "the Defenders of the Earth accept their limitations. The Decepticon Soundwave discovers he's a little dated. People can lose at The Game of Life. Governor Schwarzenegger investigates the illegal immigration issue with Speedy Gonzales and Dora the Explorer."
Watch it. (Flash Video)
Short attention span theater: Return of the Living Dead – Adam and Steve
Decepticon Soundwave Spy – Sleestaks at the Library
Just a little office drama. Directed by Zach Lipovsky.
Watch it. (Flash Video)
Ten minutes sneak peek to the upcoming one hour special.
Watch it. (Flash Video)
Hi there! Here's a new installment in our cross-blogged features. The other half of this post can be found here!
Chased by the police but innocent, our hero's blind folded. He'll find salvation in a car factory by being embedded in a brand new car.
This famous scene from Spielberg's Minority Report (nothing to do with the eponymous short story by P.K. Dick, despite what the credits say…) is a magnificent example of product placement.
Watch it. (Flash Video)
If you're wondering why, jump to the cross-blogged post on No Fat Clips!!! and find it out…
There is no other word to describe Mission Zero.
You pick up Uma Thurman directly from her Kill Bill role. You get Kathryn Bigelow to direct the flick. You let money flow in the budget like it's raining… And all you can come up with is one of the lousiest scripted action movies ever? C'mon…
Also: somebody is not very familiar with the concept of viral video. What's the sense of having the film avaiable only on Pirelli's website?
Watch it. (Flash Video, Winmedia or Quicktime)
Despite not being a great fan of machinima, this short by Monty Oum, mixing Halo and Metroid, was pretty brilliant.
Don't look for a concept. What you'll get is a series of romping action sequences with some fan service in the end.
Watch it. (Quicktime – Hi res)
Watch it. (Flash – Lo res)
Read the director's rant!
"Nice camera moves, plenty of decapitations, explosions, b-boy headspins, and gunplay. All within the course of 6 minutes."
A juicy excerpt taken from the Korean feature film Aachi and Ssipak, set in a future world where the only source of energy is… poop!
Watch it. (Flash Video)