Summer in the City from llx on Vimeo.
Go and multiply!
Watch Money Porn on NFCs or watch it as Flash Video
How wrong could possibly be a commercial. Well, when kids are involved, there doesn't seem to be any limit…
Watch it. (Flash Video)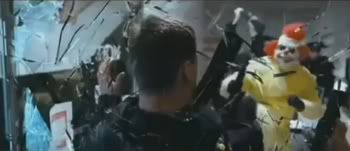 Incredible commercial/short film for Philips new LCD TV.
From the director of Toe Jam, another classic porn remix. Dialing a number has never been so fun.
Watch it (Thanks Mike)
Exactamundo. This is what I need.
It's Your Ride from Cinecycle.
Probably the prettiest portrait of biking in New York City. It makes me miss the Big Apple. The cinematography is fantastic.
I love this commercial for all of its…imperfections.
Jason asked if you could watch this without smiling, my answer is clearly no.
Clever and visually pleasing.
We have posted some wonderful stuff this year, our annual best-of list gives us a chance to celebrate some of them. Dek has a great round up of his favorites. Also, our 2006, 2007 lists.
Shorts
Best Short: Glory at Sea – A 25 minute tour de force that uses a contemporary tragedy (Katrina disaster) to create a powerful myth that seems as old as the hills.
Special Mentions:
Best Stop Motion: Illuminant – To experience this on a big screen like I did at Carrboro Film Festival was incredible.

We posted quite a few innovative stop-motion video including Lucia & Adjustment
Best Short Doc: Bullet Proof Vest
Best Hidden Product Placement: The Ramp
Best Acting in Shorts: R.L. Jackson & Tori Lee in Remember When
Best Abstract film: Pencil Face
Also:
Special mentions for Animations:
Web
Best Web Video: Dr. Horrible – It is nice to see big name talent doing web content. It certainly lived up to the hype. Hopefully, this is a sign of good things to come.

Special mentions:
Music Video
Best Music video: Fleet Foxes: White Winter Hymnal – After a year full of shocking videos, especially in content, the one video that haunted me was Sean Pecknold's animated classic. Simple in style, resonant story and a great fuckin' song.
Sexiest Music Video of the year: Toe Jam
Special mentions Music videos:
Commercials
Best Commercial: JC Penney: Aviator – Also the cutest video of the year. The direction is pitch perfect.
Other awards
Best Interview of the Year: Katie Couric's interview with Sarah Palin – Unintentionally hilarious that changed the course of the presidential elections.
Best Parody: SNL's version of Katie Couric's interview with Sarah Palin – Saturday Night Live came back with a bang. Even more wicked than the original.

Best Online Radio: This American Life: Super
Note: Some of these videos were not released in 2008, they are included here because this is when we discovered them.
More information on my videoblog.
Our Australian friendsThe Glue Society, a group of artists, designers and projecteers, have created these amazing series of sculptures and films commissioned by 42Below Vodka where they've created chair rainbows on the frozen tundra, a curb-side wrap party, gratuitous nudie pictures for airplanes passing by, a house of crates, and a blow-up doll's vacation paradise.

– Hi-Fructose Magazine