dir. Spike Jonze, James Murphy
(via antville)
In the aftermath of an atrocity, Peter, a paramilitary, is confounded by a detective's questioning. An answer might offer a kind of redemption to both men but threatens to condemn Peter to a long prison sentence. Does he know the answer?
A short film by Billy McCannon.
8 year old Thomas has been left with his cat loving aunt, while his parents are away exploring Africa. Desperately missing his beloved dog Sniffer, Thomas calls the vet to arrange a visit to bring him some new Smells, only to discover the depth of his Aunts nastyness.
A Roald Dahl style dark childrens comedy directed by Judd L. Tilyard.
Totally love the concept of differential coreography. Not sure about the execution. The director is Saam Farahmand.
Watch (Full HD) – Download (SD) – Discuss
In the aftermath of an apocalypse, a mans tragic loss leads him to an unequivocal decision.
A short film by Dan Sachar.
(via Phil Garrett)
A magic tale, directed by Tobias Gundorff Boesen and based on a song by The National.
Watch Out of a Forest.
Lightheaded is a journey we take with temperature sensitive candle creatures who sacrifice what they know to become who they are.
Watch Lightheaded by Mike Dacko. (via Cartoon Brew)
Wake up to a new hell, in this music video for Gyratory System directed by Alex de Campi.
Watch it. (Flash Video)
The official music video for Ape School's Wail to God. Directed and animated by Anthony F. Schepperd.
Watch it. (via 1nspirational)
(via Ehrensenf)
The video for Health's We are Water is a grotesque take on a cliché of horror movies (and music videos too!) The music video has been directed by Eric Wareheim (of Tim and Eric) and produced at Funk Factory.
Watch We are Water.
What you're about to see is a paranoid fantasy whose dark surface is disguised by white paint on its skin; it's an original elaboration on a classic idea of science fiction; it is a short film by Luis Briceno and David Alapont. Finally, it's in French, but no worries! You did this exact nightmare so many times that understanding the language is superfluous.
Watch Fard. (via The Awesomer) [IMDB]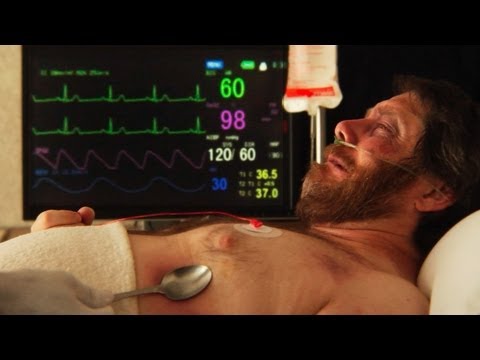 The Horribly Slow Murderer with the Extremely Inefficient Weapon by Richard Gale.