Go and multiply!
Watch Money Porn on NFCs or watch it as Flash Video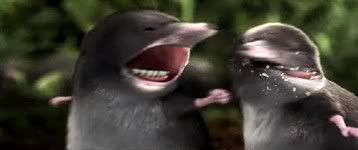 Hilarious animated short film about two water shrews fighting over a female. Nominated for this years Student Academy Award.

Watch it
I love how he rips Steele/Republicans/Limbaugh.
I haven't been able to post as often as I'd like recently. Cleaning up all those links piling up on my virtual desk.
Art:
Animations:
Economics:
Fairy Tales:
Love:
Places:
Space:
Spoofs:
Would you choose Wolverine's claws? Or his mutant healing?
Watch it. (Flash Video)
Saw this at This American Life's simulcast in a theaters nationwide, a couple weeks ago. Dark humor at its very best.
An experimental student short film by Mathieu Gérard based on the aesthetics of visual effects.
Watch it. (Flash Video)

Amazing animated short film which will get you thinking.
How wrong could possibly be a commercial. Well, when kids are involved, there doesn't seem to be any limit…
Watch it. (Flash Video)