Unlocked is the story of a teenager, Abby, coping with her mother's terminal illness. When a charming man soliciting for cancer research stops her on the street, she sees in him someone who has shared her experience.
Directed by Daryl Wein.
Watch it. (Quicktime)
Powerful essay on the recent acts of cowardice and heroism in Mumbai.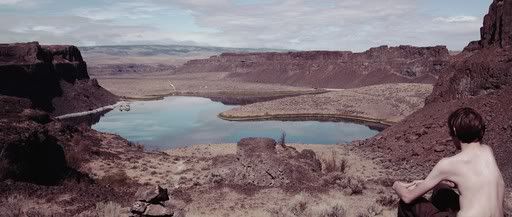 Set at the turn of the century and shot in the epic landscapes of Eastern Washington, the video invokes the hard times of the pioneer past.
The music video has been directed by Matt Daniels and produced by Jaime Keeling at Thinklab.
Watch it as: Flash Video (HD) or MPEG-4 (SD)
BONUS: Additional materials include a photo gallery, a behind the scenes video and an interview.
Our Australian friendsThe Glue Society, a group of artists, designers and projecteers, have created these amazing series of sculptures and films commissioned by 42Below Vodka where they've created chair rainbows on the frozen tundra, a curb-side wrap party, gratuitous nudie pictures for airplanes passing by, a house of crates, and a blow-up doll's vacation paradise.

– Hi-Fructose Magazine
One of the many gems that will be playing at the Carrboro Film Festival this weekend.
Bruce Lee playing ping pong for a Nokia viral.
Watch it. (Flash Video)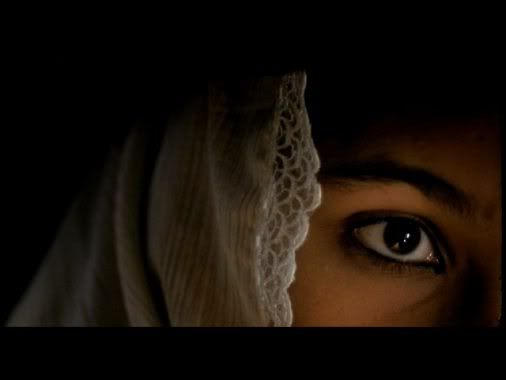 An Iraqi family's meal is interrupted by the sounds of incoming missiles. They share a surprisingly intimate moment as they wait uncertainly under the dining room table.
Written and Directed by Chase Palmer. Director of photographt Andrij Parekh. Edit and Sound Design Miky Wolf.
Watch it. (Flash Video)
I can't possibly post anything cooler than this. A man sacrifices his face in the name of…videoblogging?
Creative for a car ad. Not saying much, is it? Nevertheless, this one is outstanding.
A complaint letter written to Continental Airlines about a seat located next to the bathroom.
A short film by Elena Wen.
Watch it. (Flash Video)
Solo album from Amanda Palmer of the Dresden Dolls, "Who Killed Amanda Palmer" has every song linked to a simple music video, as if the entire album was released as a narrative video sequence. Hmm, interesting, and one will catch his heart beat a decimal too high to the song "Guitar Hero".
Watch the video series here: http://www.whokilledamandapalmer.com/videos
Josh Whedon, writer of Buffy the Vampire Slayer, directs this videoblog/show starring Neil Patrick Harris. Be a little patient because it picks up from its slow start wonderfully.  A clever tale with ample amounts of wit.
Watch it – download it on iTunes.
This is an incredibly successful internet phenomenon (making it to the Time's Best Inventions of 2008!!). A couple of thoughts:
Length. People keep saying the shorter is better online. This has been true but the internet is evolving and with it the perception that the internet is some sort of distraction from other forms of media will change. I can't wait, very promising for storytellers.
Whedon said it was a small budget with the budget in the low six figure amount. Yes, I am with you when you say "that is a small budget". But this is clearly an investment. This video series will be a full fledged something. This is just the beginning.
I hadn't heard about it till the Time's article. But Googling the show, there isn't a doubt in my mind that this is megahit. Whedon is quoted as saying as getting a thousand hits in a second in this USA Today article. What is amazing to me is that I hadn't seen it earlier. I maintain this blog about online video, I spend (too much) time looking for online video content and yet this thing lives successfully outside of my world, my blogs, the places I visit for almost 5 months. Incredible. Shows you the size of the internet and how small you really are.
Musicals do great online. I was talking to Rhett & Link about their incredible videoblog (more about them later) and they were saying their most popular videos end up being their music videos.
You need to have an account to watch it. But creating an account is free.
What you get when a big company decides to spend $4.7million on a commercial campaign? Well, apparently over 20 Terabytes of video data shot with 200 Toshiba Gigashot HD camcorders, taking over 336 continuous hours to process.
Oh, and a washed out, cheap looking, meaningless, ready-made version of Tango. But people will love it because it's, oh, soooo cool.
Watch it. (Flash Video)
By day, Mooney is an over-achieving, six year-old girl living with her Grandparents at their junkyard in the forest. By night, Mooney is a member of a secret jazz band with a group of ex-convict animals.
A short film by Heui Won Jeong and Justin Murphy.
Read my review or just watch the short.