This video has a wonderful mood, simple ideas but done well.
Watch it – via antville
Bill Simmon's from ESPN gives his top sports videos on YouTube. The Jet's First Round picks video had me crying in laughter but for people like Trev, there was just crying.
Read and Watch – via Kottke
I would probably lose my mind watching a day of Japanese Televsion.
Ephemera, a stop-action experimental film by James Higgins, explores the conflicting inner worlds of two close friends.
The film was shot entirely with a 35mm SLR still camera.
Watch it. (Quicktime)
via Milk and Cookies
Gondry has animated many everyday objects. Legos is one I can think of. I know there are more. Anyways, here he animates thread. Not his best work but…
I personally can't stand The View (what kinda cheesy title is that?). How such programs succeed is out of my understanding. Anyways, Star Jones (Ms. Now that I am skinny I think you should be as well) announced her departure from the show rather unexpectedly. So today, Barbara Walters came out swinging in a very subtle way. I was going to ignore the whole affair till I found a video that expressed exactly how I felt.
A Guy wanted for Murder walks up to a field news reporter and corrects him on the facts of the case, on camera!!
Watch it – via Daily Sixer
One of Kubrick's early films, a documentary on a boxer during fight day. What was interesting to me is how much the documentary style has changed. This film and many others from its time had a strong voice-over presence, most likely a man's voice combined with some sharp writing. Voice-over now has to play in the background, talking in first person, spitting out facts.
But the voice-over in the Day of the Fight has a lot of personality from someone we will never see. He is constantly playing with words, telling you how to feel, telling you what the subject is feeling.
Watch it – via Daring Fireball
Music video reminescent of Dr. Strangelove and Wargames, directed by Jan Brzeczkowski.
Very catchy indeed, in its own way.
Watch it.
via Green Cine Daily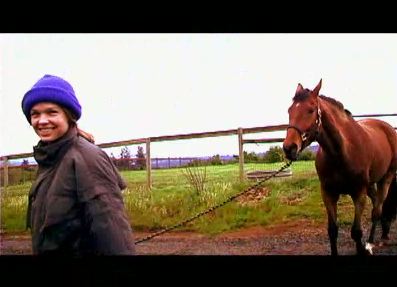 We have added a new member to our Squigglebooth team, Josh Oakhurst. His official site is here.
Beautiful travelogue video. Comes together quite nicely at the end. For the traveler inside of you.
Watch it – more on the making of the video – via antville
This is one of my favorite songs, the video is good but I imagined something else entirely.
The movies from the class of 2006 at Ringling School of Art and Design are online. So it's time for a new cross-blogged post.
Our special day it's the work of Fernanda Santiago. We'll see a little girl anxiously waiting for his daddy to come at their rendez-vous…
Download Our Special Day. (DivX)
And now, if you've find this short unbearably depressing, Ma cherie! will sure take your glycemic rate to unprecedented levels.
A documentary that revolves around Robert Kennedy's historic visit to South Africa during Apartheid. Funny there were so many South African children named Kennedy because of that.
Watch it (about 22mins)
    
"Bruce takes the elevator to the 9999th floor. Terrorists have taken over the building. His wife is in trouble. What should he do? This hilarious send-up of Die Hard takes more time to describe than to watch…"
Short movie by Konstantin Bronzit, winner of the Annecy Grand Prix in 1998.
Watch it here (MP4) or here (Quicktime)